A shot blaster is a machine that propels abrasive media, such as steel shot, at the surface, recycles the media, and then removes the waste material with a dust collector. The process of shot blasting is nearly a dust-free operation. With no chemicals used or wasted water, shot blasting is an environmentally friendly abrasive blasting method.
There are center-fed and perimeter-fed shot blasting machines. Center-fed shot blasters are typically electric. On these machines, the blast head and the dust collector are usually separate units. Center-fed shot blasters are used in many industrial flooring applications as well as interior applications. Perimeter-fed shot blasters are typically ride-on machines. In these units, the blast head and dust collector are integrated into a single piece of equipment. Perimeter-fed shot blasting machines are usually LP/Gasoline/Diesel powered. These large machines are best equipped for highway preparation projects and other exterior applications.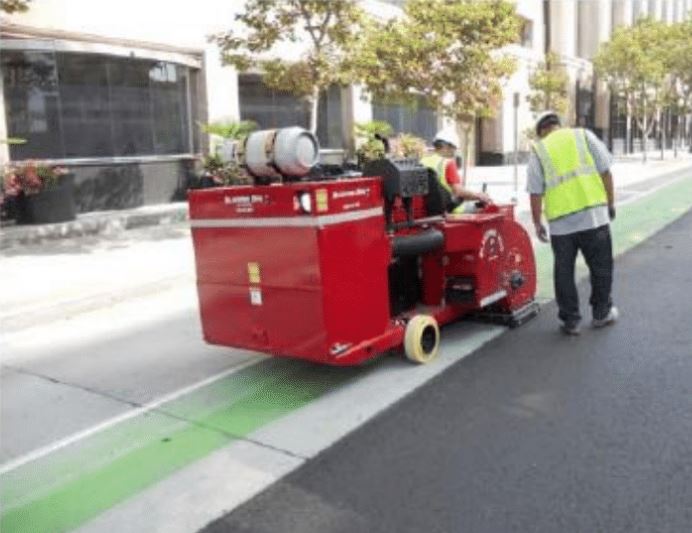 Concrete shot blasters are great for resurfacing several industrial surfaces including concrete and metal. The bigger the shot blasting machine, the larger the blast pattern and the coverage area will be. This is a one-step method for stripping, cleaning, and profiling surfaces for coatings and overlays. Shot blasting yields a roughened surface texture that is dry and immediately ready for resurfacing or coating.
Advantages of shot blasting
Sizes to fit most applications
Closed cycle system
Reuse of media
High production rate
Superior coating adhesion
Disadvantages
Limited to rigid materials
Overlap "corn rows" or "tiger striping"