DiamaPro® Systems SVX Series
The SVX series by DiamaPro Systems brings the best vacuum technology available to the concrete surface prep and polishing market.
The SVX line of single-phase vacuums are extremely reliable, durable, and efficient. Concrete dust is extremely fine and requires proper filter technology to separate the dust from clean air. All DiamaPro SVX units come standard with HEPA filters. DiamaPro Systems HEPA filters utilize a PTFE membrane that smooths the surface of the filter making it more difficult for dust to stick. This means longer and more efficient run times and filter life.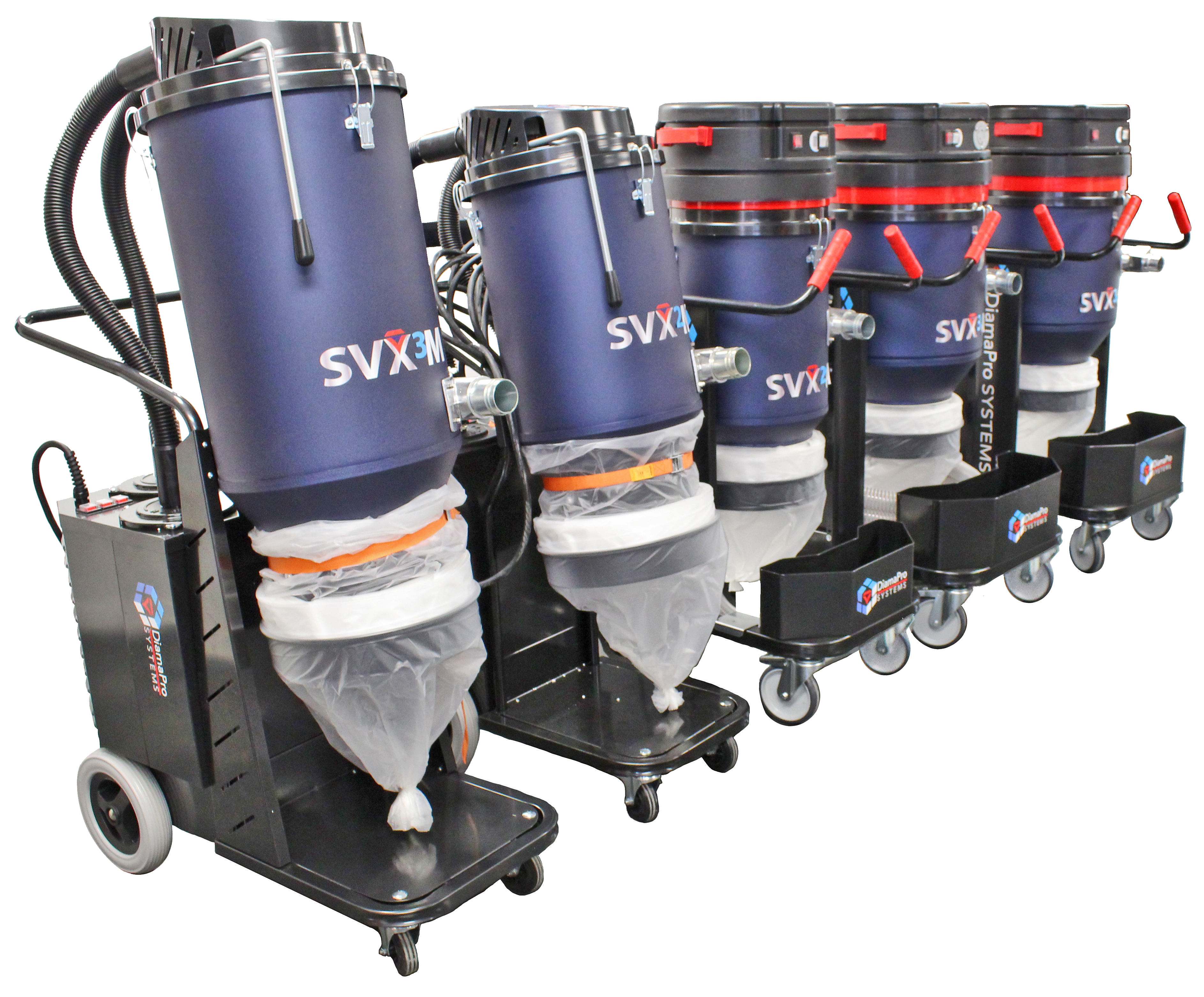 The SVX line offers 2 different types of vacuum technology: automatic filter cleaning, and manual. Both series offer options in 2 motor and 3 motor units. The automatic filter cleaning technology ensures constant suction and performance. DiamaPro Systems automatic filter cleaning technology independently cleans each filter without any stop in suction. This technology makes the DiamaPro SVX2-A and SVX3-A unique. Nonstop suction and nonstop production. The SVX Automatic series also features a basket for carrying tools, large 6 inch casters, and a robust frame.
The DiamaPro Systems manual filter cleaning units provide a more traditional experience for concrete dust collection. The SVX Manual line utilizes two levels of filter cleaning; a cylindrical prefilter for separating larger dust particles, and a HEPA filter for each motor to remove the smallest dust particles. The manual model cleans filters using a durable metal jet pulsing system. Other features include a cylindrical prefilter specifically designed to increase air flow and allow dust to slide off the rugged frame built for construction sites, strong casters with a sturdy attachment to the frame, and individual switches for every motor.
MANUAL FEATURES:
Cylindrical prefilter specifically designed to increase air flow and allow dust to slide off
Durable metal jet pulsing system
Rugged frame built for construction sites
Strong casters with a sturdy attachment to the frame
Individual switches for each motor
AUTOMATIC FEATURES:
Filters clean without ever stopping suction
Easy grip front handles
Large, sturdy 6 inch casters
Continuous bag dust